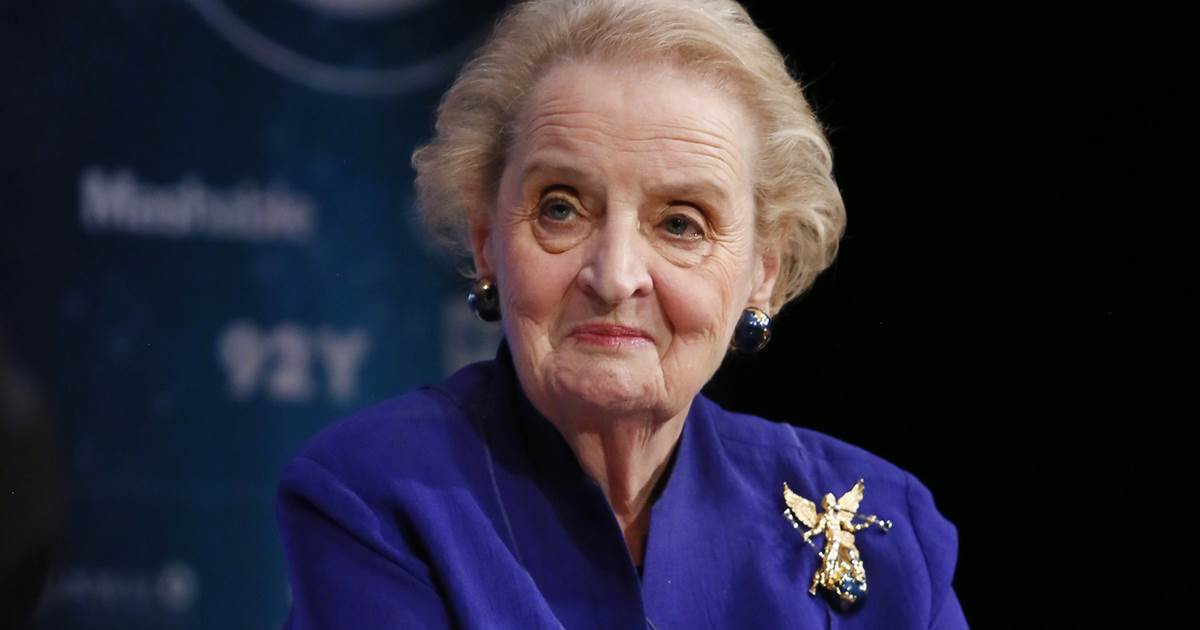 Who is Madeleine Albright?
As a child, Madeleine Albright moved with her family to the United States. After studying at Wellesley College and Columbia University, Abright entered politics at the urging of a former professor. In 1933, Albright became the American ambassador to the United Nations, and three years later, she was appointed the Secretary of State in the Clinton administration, making her the first woman to ever hold the position. Albright served in that capacity for several years before leaving in 2001 to pursue other projects.
Early Life
Albright was born Marie Jana Korbel on May 15, 1937. When she was only a toddler, she and her family fled their native Czechoslovakia shortly after the country was invaded by the Nazis at the start of World War II, settling in England for the duration of the war. Although Albright was raised Catholic, she would later learn that her parents had converted to the Christian faith from Judaism and that three of her grandparents had died in concentration camps during the Holocaust. After briefly resettling in Czechoslovakia, in 1948 the Korbels again took flight when the communists came to power. They settled in Denver, Colorado.
Adviser and Educator
While still a student, in 1972, Albright first entered the political arena as a legislative assistant to Democratic senator Edmund Muskie. Four years later, she was hired by national security adviser Zbigniew Brzezinski (one of her former professors at Columbia), to work for the National Security Council during the administration of President Jimmy Carter. However, when the Democrats fell from power in the early 1980s, Albright moved to the private sector, working for various Washington nonprofits and becoming a professor of international affairs at Georgetown University, where she won its Teacher of the Year Award four times.
Also around this time, Albright and her husband divorced after he left her for another woman. "It was a shock," she later told The Washington Post. But she refused to let heartbreak put a damper on her career or her social life, hosting numerous gatherings at her townhouse, where the Democratic elite gathered to discuss the issues of the day. On matters of foreign policy, Albright quickly became one of the party's leading lights, and among other distinctions, she served as an adviser to Michael Dukakis during his 1988 presidential bid.
Leader in World Affairs
In 1992, president-elect Bill Clinton tapped Albright to handle the United States' relationship with the United Nations. She officially assumed the role of the United States' permanent representative to the United Nations in January 1993, and quickly distinguished herself as a force to be reckoned with. During her four years in the post, she became an advocate for "assertive multilateralism," telling The New Republic in an interview that "U.S. leadership in world politics and in multilateral organizations is a fundamental tenet of the Clinton Administration." Among other endeavors, Albright lobbied for the United States to expand its military involvement in the Balkans during its prolonged conflicts in the 1990s—a move over which she would publicly clash with Colin Powell—and also pushed for U.S. intervention in the Haitian coup of 1994.
In December 1996, Clinton once again looked to Albright for her expertise in foreign policy, nominating her for secretary of state. When she was sworn in to the position the following January, she became the 64th secretary of state and the first woman to ever hold that position. In her new role, Albright quickly lived up to her reputation as a strong-willed and outspoken problem-solver, engaging with a broad range of issues.
During her tenure, Albright advocated for increased human rights and democracy throughout the world and fought to halt the spread of nuclear weapons from former Soviet countries to rogue nations such as North Korea. A champion of NATO, Albright also sought to expand the organization's membership and in 1999, pushed for its direct military intervention during the humanitarian crisis in Kosovo. As a diplomat, she was closely involved in work to normalize U.S. relations with countries such as China and Vietnam, and in 1997, was a major player in a peace mission to the Middle East, during which she brokered negotiations between Israel and various Arab nations. In October 2000, Albright made history again when she became the first American secretary of state to travel to North Korea.