I have been asked to gently introduce the FWA New Tampa / Wesley Chapel (NTWC) writers group to using and creating blogs at the June 4th meeting. Of course that meant blogging the content I was going to present. This is an article series on Blogging for Writers.
Introduction
Until now, the articles in this series have been focused on consuming blog content. Now it is time to join the ranks of millions of blog authors by creating our own blogs. Since I am a believe in the old adage of a picture is worth a million words, I am going to try and show rather than tell how to create the blogs.
Creating Blogs
We can now read and subscribe to blogs, now it's time to create your own blog. Once again, there are many options, but I am going to stick to two, Blogger and WordPress. Both systems provide enough support and guidance for the entry level blogger and both provide enough a number of tools to assist the more advanced blogger. WordPress goes much further in providing a significant capability for customization, enough so that a very large ecosphere providing themes, plugins, hosting and services to support it. It is for this reason that I think WordPress is the most viable option for those that want to eventually have very advanced blogs without becoming a technical expert in the underlying technology. So why cover Blogger at all? Because Blogger is owned by Google, it has tight integration with many of Google's services, such as search and AdSense. This integration is a significant benefit. The deciding factor for me is the WordPress ecosphere. I believe that nearly all of Bloggers benefits can be duplicated in WordPress, and I will have more flexibility. However, for some things I will have to invest more time and effort to make that happen.
The Quick and Easy Places to Host Your Blog
Both blogging platforms have free and easy hosting available. Hosting is what it is called when a blog has a physical home on the Internet. It is essentially a computer sitting somewhere that displays your content when a browser goes to your web address. The details about hosting are not important at this point, other than if you use Blogger, then Google is hosting it for you, and if you use WordPress, WordPress is hosting it for you.
Blogger
Setting up blogger is easy. You go to http://blogger.com, sign in with a Google account (create one if you don't have one), and set up your blog.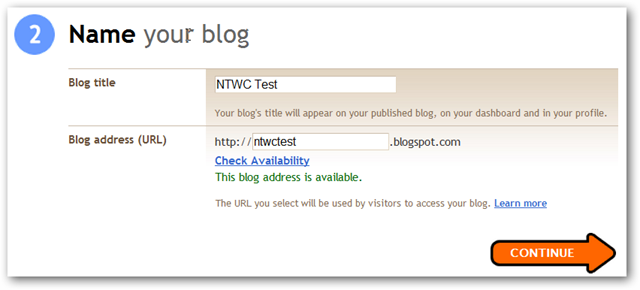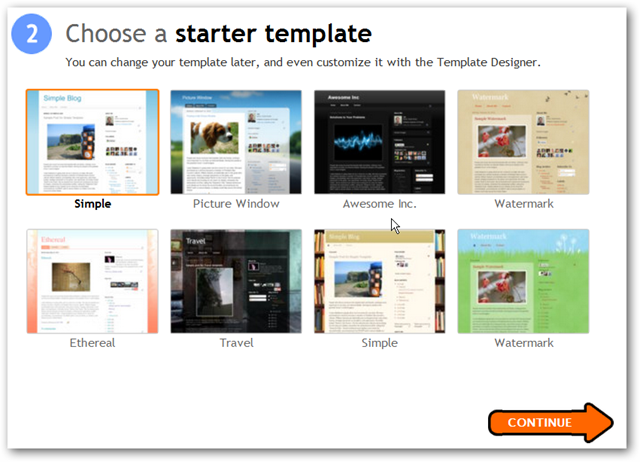 It really is that easy! And here is the brand new empty blog at http://ntwctest.blogspot.com/.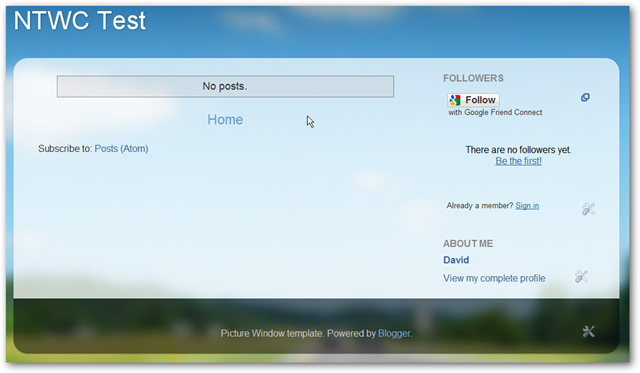 Now we add our first post. Blogger has a web based editor to let you write and format your posts. As you can see it is similar to many word processors, and has a tool bar at the top. For now, I would ignore using the Edit HTML option unless you are comfortable with working with HTML. You should be able to write any of your posts, include links, add pictures or video, and most importantly do your editing in this window.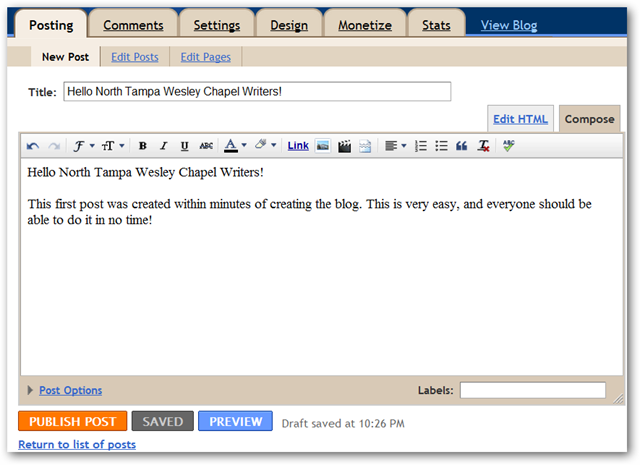 And then view the preview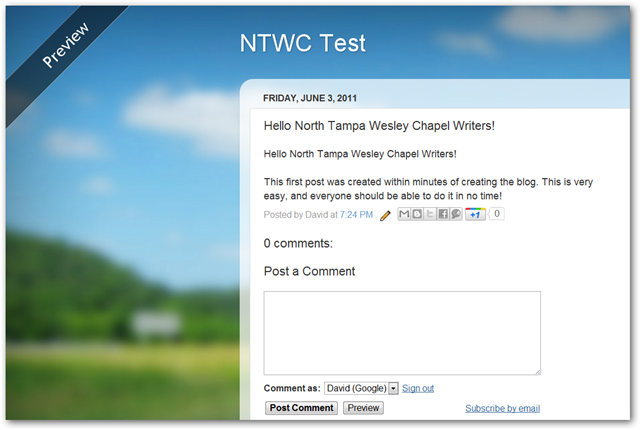 I think it all looks good, so let's publish it. Here is the published post at http://ntwctest.blogspot.com/. Feel free to browse over and leave a comment.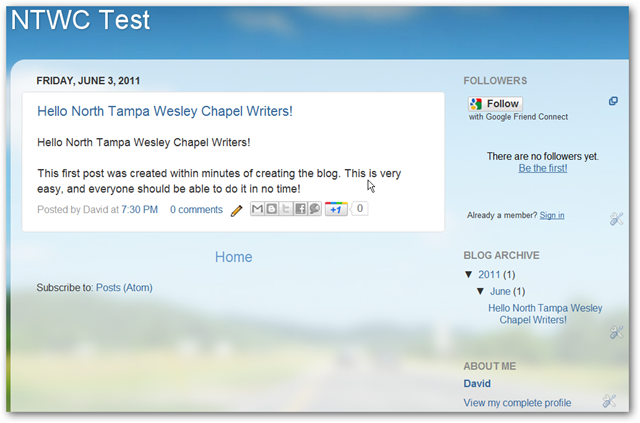 WordPress
So you have seen how easy Blogger is, now it is time for WordPress. You start by navigating your browser to http://wordpress.com/. On the left side of the page, you will see the Get started here button. Click and lets begin.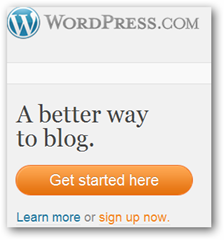 Fill out the form and click sign-up. In a few minutes you will receive an email confirming your email address. Click the link inside the email, and you will be taken to your blogs dashboard where you can create posts.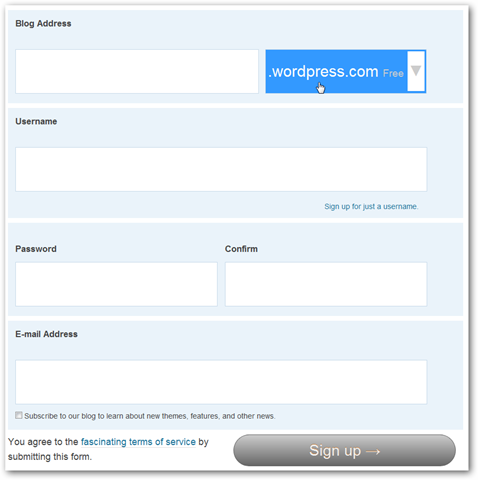 After you have signed up, WordPress will have created a blog for you, and in our case it will be at http://ntwctest.wordpress.com/. Navigate over and you will see there was a post created for you.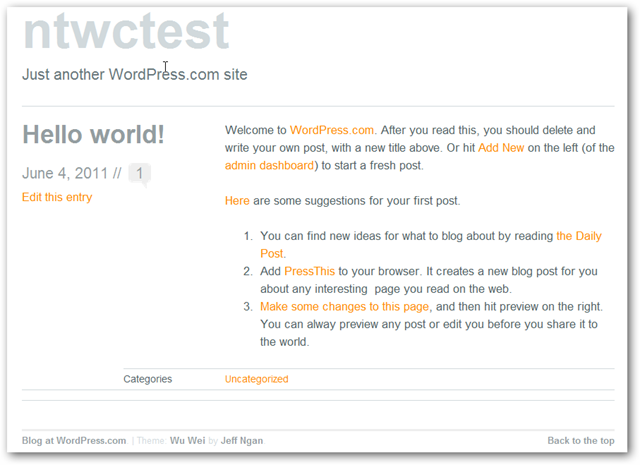 We want to add our own post, so we got to the Add Posts page. In this case it says Edit Post because I had already clicked Update. Sorry. It was just so fast and easy, my clicking got ahead of my writing this.

Now if you go to http://ntwctest.wordpress.com/ you will see our first new post.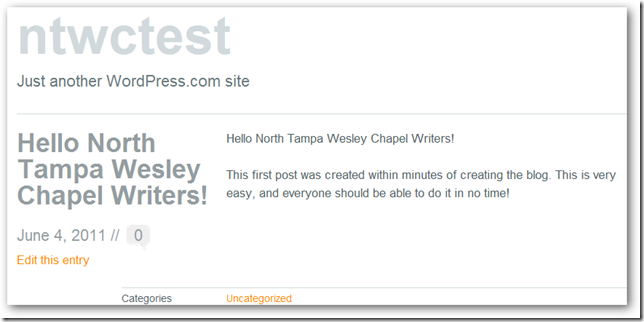 So you can now go and visit either one of these blogs, the Blogger version at http://ntwctest.blogspot.com/ and the WordPress version at http://ntwctest.wordpress.com/. You have also seen how easy it is to use either one of these platforms. So now it is time for some homework. You are to go and create a blog and post the link to it and why you chose WordPress or Blogger as a comment to this post.